Company Profile
SMDC Human Resource Services is a licensed employment agency registered with the Ministry of Manpower in Singapore. We provide a wide range of human resource services and solutions to local and foreign corporations.
Today, we have developed and established ourselves to having the capacity and capabilities to provide to our clients a full spectrum of human resource solutions, be it company formation, recruitment and placement services, executive search, payroll outsourcing, collation and streaming of CV, providing temporary staff and worker, personality assessment and etc.
SMDC understands that a new era of resourcing has emerged and calls for new competencies, skills, abilities and behaviors that will drive an organization's strategies to deliver organizational excellence. Therefore our agency has extended our services to include specialist business units comprise of recruitment and placement services of local and foreign personnel of skilled manpower to developed countries like Australia, New Zealand, U.K., Canada, U.S.A. Europe and Middle East countries in the following industries.
Banking, Insurance & Finance
Construction
Food and Hospitality
Information Technology
Shipbuilding & ship repair
Petrochemical, drilling and oil exploration
Telecommunications
Healthcare
With SMDC's leading edge services and solutions combined with our superior skills and experience in corporation management and recruitment, we certainly have the confidence to providing our Clients with a distinct advantage.
Managing Director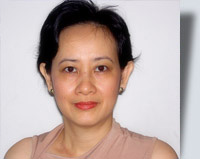 Evelyn Teo is the founder of SMDC Human Resource Services in 2002. She holds a Master in Business Administration majoring in human resource management, Australia. Evelyn has had more than twenty years of working experiences in the human resource field with foreign and local multi-national companies in Singapore. The exposures she gained further strengthened her passion in specializing in providing solutions in the field of human resource management.